Largest selection of Jovani Prom Dresses in the North East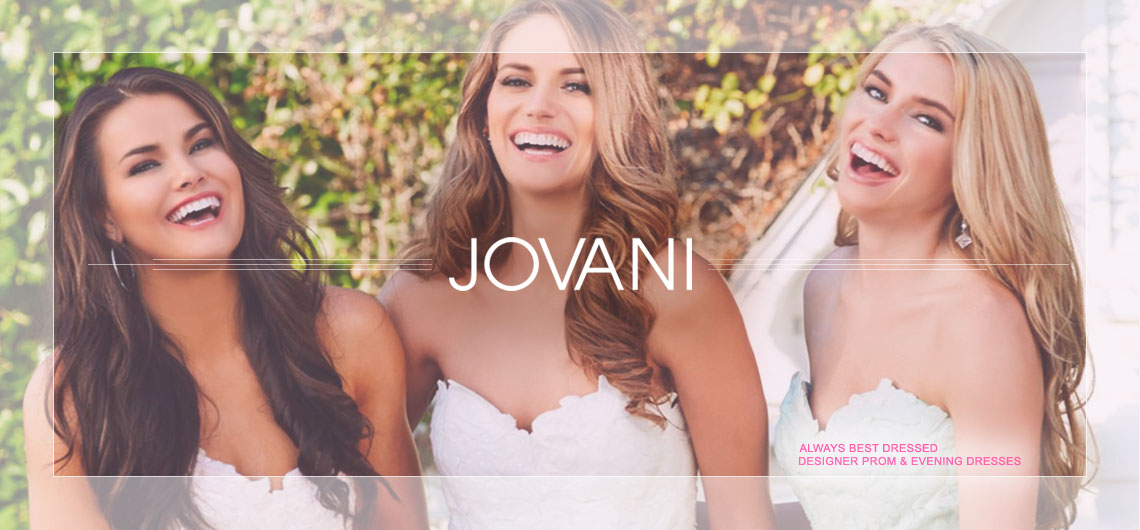 Fusing impeccable craftsmanship with luxurious materials to create contemporary silhouettes that fit and flatter every figure, discover our sought-after collection of Jovani gowns. 
Whether you're searching for a fun and vibrant mid-length dress to wear to junior prom or looking for an opulent, floor-skimming gown that'll turn heads and capture gazes, we have a huge selection of cuts, colors, and styles to choose from — so browse our range online today to find a shape-framing silhouette that'll make you feel as confident as you look. 
Dress to impress in a magnificent Jovani gown
Regardless of the event location or provided dress code, there's a Jovani gown in our collection that'll fit you like a dream. For opulent, black-tie themes, slip into a full-length, sleeveless gown embellished with soft crystal detailing and glittery sequins that refract the light as you swish and sway on the dance floor. Play it safe and choose a monochrome shade like black, or adorn a vibrant strapless style that hugs your curves in all the right places. 
Love to make a fashion statement? Slip into a head-turning, vibrant-hued A-line silhouette with intricate stitch detailing around the bust and a thick thigh split that shows a subtle hint of skin. If you want to be the belle of the ball, choose a Jovani gown with a tight bodice, an open back, a layered tulle skirt, and beaded spaghetti straps that tie the look together.
Find your new favorite Jovani prom dress online today at Glitterati Style
Whether you're searching for a striking, full-length gown with all-over crystal detailing or looking for a strapless dress that injects a bright pop of color into your evening wardrobe rotation, you'll find the best styles and cuts right here at Glitterati. 
With an expansive selection of flattering silhouettes, you'll have no trouble finding a picture-perfect gown that lets you dazzle at your next event. 
Shop our collection online today, and don't forget to review our size guide to ensure you find the perfect fit. If you need styling advice or have questions, please contact our friendly customer service team — they'd be more than happy to help you find your dream dress. 
Looking for more high-quality gowns for all of life's special moments? Explore our iconic designer Sherri Hill collection or browse our Homecoming range to find mini silhouettes in vibrant hues.
FAQs 
What kind of prom dress should I get? 
It all boils down to the dress code. If you're attending a more formal prom, look for a floor-skimming gown with intricate details and crystal embellishments splashed across the design. If the dress code is a little more relaxed, you could opt for a chic mini dress, a mid-length gown with a voluminous tulle skirt, or an A-line silhouette in a silky satin fabric that drapes and falls in decadent volume.
Do you offer returns online? 
Due to the delicate nature of the gowns, we do not accept returns, exchanges, or provide refunds. To ensure you find a style that fits you perfectly, always review our sizing guide and provide us with your measurements. If we notice that the style you've ordered runs small, our team will suggest an alternative in a similar color that will provide a better fit. If you have any questions, please don't hesitate to contact us today at (978) 539-8580 ext # 5.